ORD TOWNSHIP LIBRARY
Information seekers, book browsers, and adventurers of all ages are invited to explore at the Ord Township Library.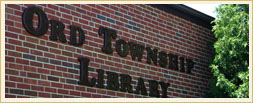 ORD TOWNSHIP LIBRARY
P.O. Box 206
1718 M Street
Ord, Nebraska 68862
Phone: 308-728-3012
Fax: 308-728-3126
Email:
Kristi Hagstrom, Director
director@ordlibrary.org
Diane Breitkreutz
librarian1@ordlibrary.org
Library Card
Your library is funded by the township taxes.
Patrons living in the Ord Township are welcome to borrow materials without a fee. Patrons residing outside the Ord Township may purchase cards for an annual fee.
Family Card - $40
Adult Card - $30
Student Card - $20



Sunday - 2-4 p.m.
M/W/F - 12-5:30 p.m.
T/T - 12-8 p.m.
Saturday - 1-4 p.m.
Click here to access our online calendar.


ORD QUIZ ARCHIVE
Click here to view The Ord Quiz newspaper archive.